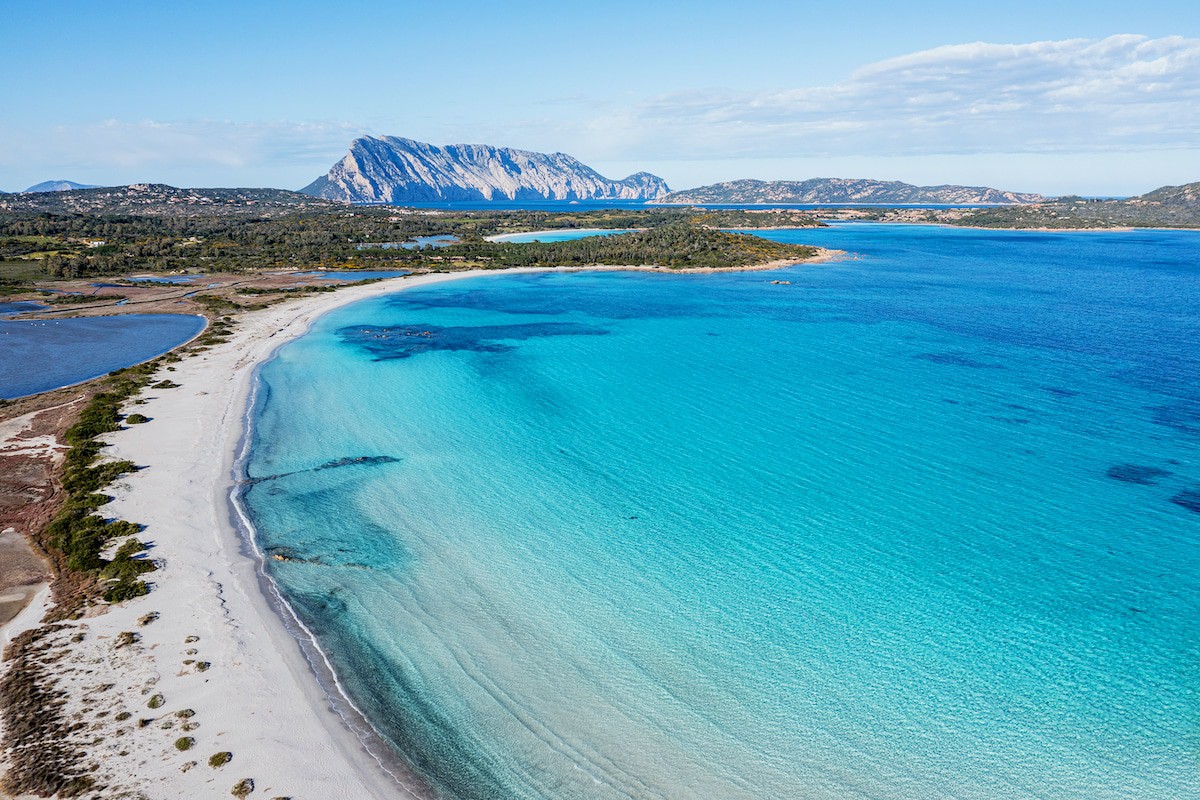 Puntaldia, one of the most prestigious residential villages in northwestern Sardinia, offers much more than just natural beauty. Surrounded by green meadows, plants, and flowers, this village stands out for its architectural style that fully respects the natural value of the Gallura area. Its privileged location provides a direct view of the Tavolara-Punta Coda Cavallo marine area, creating a unique atmosphere.
The Puntaldia area is famous for its beaches with rare white sand. Among them, the Puntaldìa Beach, which gives the village its name, stands out for its beauty. However, there are also other splendid beaches such as Lu Impostu, Capo Coda Cavallo, La Cinta, and the famous San Teodoro Beach. The latter is surrounded by granite rocks and offers a charming setting with crystal-clear waters and unforgettable sunsets over the islands of Tavolara and Molara.
The surrounding area also includes Capo Coda Cavallo, a strip of granitic land that stretches along the sea and is protected by Tavolara, Molara, and the island of Proratora. This area, spanning 15,000 hectares of crystal-clear waters, coves, and inlets, is a true paradise for nature lovers and water sports enthusiasts.
Furthermore, Puntaldia boasts a marina that adds a touch of luxury and charm to the village. Here, you can rent a boat and venture out to discover the wonders of the coast or take a trip to the nearby islands of Tavolara and Molara. The marina also hosts elegant shops, restaurants, and bars where visitors can savor local delicacies and enjoy panoramic views.
But Puntaldia is also a place to relax and enjoy tranquility. The village is characterized by elegant residences and private villas nestled in lush gardens. Pedestrian streets invite pleasant walks, allowing guests to immerse themselves in a relaxing atmosphere that allows them to unwind from the daily stress.
Puntaldia is only 10 km away from San Teodoro and its services. In addition to its dreamy beaches, San Teodoro also offers numerous evening entertainment options and possesses great historical value thanks to its Roman and prehistoric settlement remains.
In conclusion, Puntaldia is a true hidden gem of Sardinia that offers a unique combination of natural beauty, recreational activities, and a tranquil Mediterranean atmosphere. Whether you're a sea lover, a sports enthusiast, or simply seeking relaxation in an idyllic environment, Puntaldia is the ideal place for an unforgettable vacation. With its enchanting beaches, marina, outdoor activities, and laid-back atmosphere, this destination will not disappoint your expectations.
Properties for sale in Puntaldia
Properties for rent in Puntaldia